Japanese manicure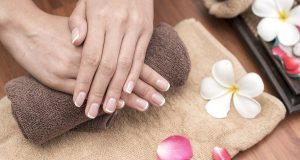 If your nails are weak, fragile and often flake, then there are two ways: either you continue to put up with it, or try a Japanese unedged manicure. This is a complex procedure that allows you to get a healthy, strong and surprisingly strong nail plate, as well as moisturize your skin. A method based on stimulating the processes of natural regeneration and restoration of tissue cells is today considered one of the most effective and popular in the world. Already interested? Read the details below!
The main distinguishing feature or even the pride of Japanese manicure is the use of exclusively environmentally friendly and natural materials and compositions in the work. The method is based on a systematic individual diagnosis, after which the wizard selects a personal approach that allows you to solve the problems of nails and skin of the hands. Japanese manicure strengthens and smoothes the nail plate and smoothes the skin. Makes it soft and velvety. The procedure must be carried out using special complexes, which include mineral pastes and powders with unique serums. Have a desire to do such a manicure on your own? We will tell you how!
How to make a Japanese manicure at home?
First, make sure to purchase a special kit for the procedure. It can be found in many specialized professional stores. This is the easiest way. But you can purchase individual components yourself, this will save an individual approach that is important for such a manicure. You will need approximately:
composition in the form of a paste with minerals based on wax with keratin and sea peptides;
polishing powder for gloss and good structure;
Chitibana sticks (2 pcs) for processing the skin near the nail plate;
"Boat" for polishing from genuine leather;
file made of natural suede;
moisturizing oil;
vitamin serum.
japanese manicure
Japanese manicure: stages of the procedure
Japanese manicure gives an excellent result in just one procedure. The nails look much more well-groomed and shiny. However, the effect can be achieved if all the subtleties of the process are observed. The whole procedure of Japanese manicure takes no more than 1 hour. After this procedure, you can accelerate the growth of nails, and give the skin softness and elasticity.
Diagnosis of hands and nails. It is important to inspect and evaluate their condition – whether there are chips, microcracks, scratches.
Cuticle processing. Individually pick up a mineral whey mixture, jojoba oil or algae scrub. Choose what you like best.
Moisturize your skin with natural serum.
Apply a special mixture to strengthen skin tissue.
Re-strengthen with a mineral composition in the form of a paste. It contains crumb pearls and calcium for a strong structure.
manicure oil
Apply a special powder with silicon. This is necessary to protect against mechanical damage. Due to silicon, a manicure can hold for 20 days.
Start polishing each nail with a boat file made of special genuine calf leather.
Then massage your fingers and palms with bags of hot, refined sand, essential oils, herbs, or flowers. If you want, you can, on the contrary, cool the contents of the bags.
Everything is individual in this technique. Some people like to apply alternately – first hot bags, then cold. It improves local blood circulation.
Apply the treatment composition to the skin of the palms and fingers.