Hairdresser: how not to make a mistake in choosing?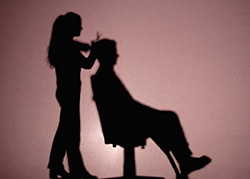 A reliable, creative and trusted hairdresser is real happiness. One can only dream … A call to the salon, an appointment with the master, came and agreed on a hairstyle, offered several options, sat down in a chair, after a while opened their eyes and admired the result … Unfortunately, this does not always happen.
Sometimes the master simply leaves without leaving contacts, but it happens that you can't find a good hairdresser "in the afternoon with fire". What to do if you so want to always look at 100%? Need to look for it! But how?
Hairdresser: how not to make a mistake in choosing?
It would seem that it's easier, on every street a hairdresser, but not one, go into any one. I don't want to search by trial and error, after some mistake of a grief-hairdresser then you can grow hair for more than one month. Therefore, we give advice for the effective search and selection of a good master. When looking for a good wizard, you should consider several parameters at once.
And the first tip: do not go into the first hairdressing salon that comes across. Separate salons by the cost of services. Indeed, the low cost of the services of a master – this does not mean at all that the master will be a professional. As a rule, trainees or mediocre craftsmen offer their services at low prices. And the quality work of a hairdresser and specialist cannot be cheap. Therefore, rule number 2: I want to see a great result on my head, you should not save.
Hairdresser: how not to make a mistake in choosing?
The Internet is where you can read reviews on hairdressing services. Forums and blogs actively discuss the best worst results of hairdressers, stylists, and besides, you can also find out about discounts, special offers and more, and more, and more … Having collected a list of useful tips, then they can be divided into two groups. The first group of tips belongs to the category "Hairdresser of the highest category", and the second group, therefore, "Hairdresser is not very good." The second group – these are signs that reveal not conscientious masters and trainees.
Characteristics of the first and second groups of hairdressers:
Is it easy to get an appointment with a hairdresser? You can't get to a professional so easily, an appointment is required. But it's easier to get to a not very good master, he doesn't have a queue, and recording is not required.
It is worth paying attention to the professional development of the hairdresser, as well as the availability of documents that should confirm skill. If a hairdresser is a master of his craft, then, as a rule, he participates in various competitions and conferences, seminars on hairdressing. There are diplomas, certificates, prizes. The hairdresser "so-so" has nothing, not even a certificate confirming training in this specialty.
Pay attention to the appearance of the wizard and his age. The hairdresser should have a neat appearance, clean hands with treated nails. Age: not younger than 23, but not older than 40 years. Still, there must be both work experience and the desire for professional growth.
Cost of services. For a professional, work should be above the average price.
Reviews For good work on the Internet there is always a review and comment, if the work was "no", then you can not find reviews on the entire world wide network.
Portfolio. There must be a full portfolio of the master. If it is not, then the master has nothing to brag about.
Thinking of going to the hairdresser to the new master, you should think about what you want to get in the end. Every detail is important: the length of the hair and the shape of the hair, the color and structure of the hair. Clearly explain your idea. Outline it to the master. The hairdresser must understand you correctly and do everything that you ask of him.
If the hairstyle is difficult to come up with yourself, in this case, fashionable glossy magazines, the Internet, and television will help. There will always be "helpers", and they will tell and show which image is ideal for your eye shape, face shape, hair color. So, if the new hairdresser made a good impression on you, then you can tell him your ideas about your new look. If possible, show clippings from the magazine, printouts from the site. The master, looking at the new image, must visually assess whether it is suitable for you. Having expressed your opinion, made some additions and suggestions, you two must agree and come to a common opinion. If the hairdresser is stingy with statements and offers nothing of his own, but completely agrees with your choice, maybe you should think about another master and a salon. You can compare a hairdresser with a doctor, if a doctor makes a diagnosis, the hairdresser must quickly and clearly determine your image, find the right hairstyle and hair color.
A well-chosen hairstyle made by a professional will not only hide the flaws, but also emphasize your advantages. The selection and creation of such a hairstyle – this is what the hairdresser's skills include.