Men's pedicure is the key to good health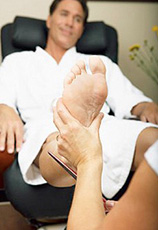 Success is achieved by the man who walks through life with ease and confidence. But how to find this lightness when you feel sharp pain from an old callus or an ingrown nail? In this case, the thoughts are no longer about how to successfully conduct a deal or how to get to know a beautiful girl walking towards, but about how to quickly release tired legs from hated shoes and breathe a sigh of relief. Do you know these sensations? This means that you do not resort to procedures such as men's pedicures.
Men's pedicure is the key to good health "
In any beauty salon, they will tell you that the total number of women doing pedicures regularly from 25 to 30%, but the same proportion of clients is among men. A strong half of humanity believes that manicure and pedicure is the destiny of women, and is only cropped and beautifully painted nails.
But if you look objectively, then foot care, just like hands, is necessary for everyone. Perhaps men, even more than women, as they spend more time on their feet and often not quite in comfortable shoes. And due to the properties of the male body, they have excessive sweating of the feet and, as a result, fungal diseases.
Pedicure for men is needed not so much for the beauty of the legs as for maintaining the health of your body. On the foot of a person there are many different energy points, each of which is responsible for the functioning of the vital organs of the body. It is important that the pores on the legs are not covered by old keratinized skin.
Men's pedicure is the key to good health "
Also, massage of these energy points, which is part of the pedicure, has a rejuvenating and healing effect on the whole body. It is advisable to do this procedure at least once a month, and at home daily to maintain foot hygiene. Nowadays, male and female pedicures are done using several methods, and this procedure is painless and safe.
It should be noted that if a man's feet are rarely seen, then groomed hands worsen any effort to look stylish. In this case, even a beautiful haircut or fashionable costume will not help to hide it. Therefore, male manicure is in demand today no less than female. Neatly trimmed, clean nails speak of the status of a man as well as a polished car.
Men's pedicure is the key to good health "
Neatness, elegance and smartness, combined with intelligence and determination – this is what helps a modern man to have well-being in business and enjoy success among women. In the above qualities, pedicure and manicure play an important role, because such an insignificant detail can spoil your image as well as a fly in the ointment. Taking a little time to look after yourself, you can feel the changes, both in business and in personal life!