Fashionable makeup and manicure in February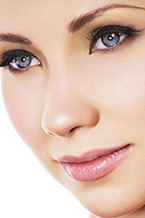 Makeup
Naturalness is the trend of this winter. The main task of makeup this season is to emphasize and highlight the naturalness and healthy appearance of the skin.
The skin should be flawless, with an even tone and a delicate blush. Choose a foundation with a touch of tan. Shades of pink and peach are preferred for blush. Blush should give the effect of a slight blush after a walk. Using them, healthy skin color is emphasized.
Beige and brown colors and their shades form the basis of fashion trends for eye makeup. It is preferable to use one color when choosing shadows. Shadows need to be carefully shaded. 50s-style arrows are back in fashion. The lines should be smooth and gentle. Arrows emphasize the eyes and make them more expressive. But you need to combine them with lipsticks and sparkles of light pink tones.
Fashionable colors for lipsticks are natural and delicate shades. But the most hit color of February for evening makeup was red in all its shades.
Fashionable makeup February Fashionable makeup February Fashionable makeup February
Smoky eyes are still relevant this season, but only in color. For eyelashes, choose brown and gray mascara for daytime makeup. And black – for evening looks. Give your eyelashes density and splendor so that the look is expressive.
There is a 100% trend and thick eyebrows with a natural color. To make the eyebrows look natural, you need to choose a pencil in hair color or a tone darker.
In makeup for every day, use a minimum of makeup. Focus on warm and pastel colors.
Fashionable makeup February Fashionable makeup February Fashionable makeup February
Manicure
In manicure, naturalness and naturalness are also fashionable. Rounded nails of medium or short length are the main trend of the beginning of 2013. Long and square nails remained last year.
In the color palette of varnishes, saturated colors prevail, but in light shades. Coral became the top color of the season, in combination with accessories, it will look great. French manicures remain fashionable in February, but the French is not fashionable to be painted in classic white, but in black or silver metallic. Lunar manicure also remains fashionable, the main thing in it is to observe the principle of contrast.
Fashionable February manicure Fashionable February manicure Fashionable February manicure
A novelty of the season was a stretch or gradient manicure – a smooth transition of shades from one to another. A game of color can be arranged on each nail, or you can switch colors from nail to nail. Today, complicated patterns on nails, for example, peas, lines, curls, have become fashionable.